Posted on
August 16, 2016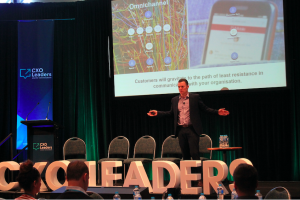 Steven Fitzjohn, Head of APJ from LivePerson discusses how the way we communicate with each other has changed; We are much more likely to use technologies like SMS, Whatsapp, Twitter or Facebook opposed to picking up the phone or even writing an email.
During the session, the audience was engaged and learnt about;
What the digitally engaged customer expects from your brand,

How you can differentiate your brand by leveraging new technology

Why the right engagement for the right customer is crucial to delivering an exceptional customer experience

The difference between just "having a chat" and implementing an intelligent customer engagement programme
Steven discussed the trend towards message-based communication is now extending to the way that consumers are interacting with their brands. Although, there is still a significant gap between how businesses allow their customers to contact them and what consumers want. Steven continued on by explaining Why messaging is the future of customer engagement and how it is having a positive affect your bottom line.
Steven started the session strong by explaining that "77% of the Australian population use mobile phones for sending text messages and setting alarm clocks".
Steven has more than 20 years experience in the Australian IT and Telecommunications market with a focus on providing business driven outcomes facilitated by technology, serving in a range of leadership roles and start up businesses.
Steven is currently APAC's Regional VP, based in Melbourne, responsible for LivePerson's business throughout the Asia Pacific Region (NASDAQ:LPSN), providing advanced, cloud based digital engagement services such as chat, mobile messaging, collaboration, content presentation for a range of Enterprise customers such as Telstra, CBA, Westpac, ANZ, NAB, Medibank, Qantas, Singtel among many other large local brands. Liveperson are the market leader with over 18,000 global customers, have been established for over 20 years with local data centers in Melbourne and Sydney.
Earlier during the dot.com boom Steven helped set up and manage a range of startup business's including an Internet Service Provider (ISP), Web design company, Energy Conservation Tech company. Other experience includes State Sales Manager AAPT, Southern Regional Manager for VeCommerce and a 2 year stint in the UK as National Sales Manager for Telephonetics providing Speech Automation and Voice Biometric systems.