Posted on
August 16, 2016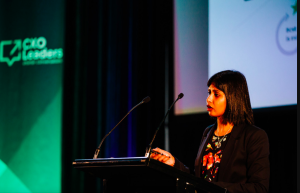 Sarah Richardson for ANZ spoke on 'Take No Prisoners: The Undeniable Case for Agile for Marketing'. Laura spoke on what Agile for Marketing is and why the case for it is so compelling, How ANZ Wealth have gone about implementing Agile for Marketing, What they have learnt in the implementation process and where they are heading next.
Sarah spoke on the top 3 benefits of being agile including how to change quickly within the bank and improve the effectiveness of the product and service.
"To stay on track, Prioritisation is key".
The journey started back in 2015, discussing with Experts about finding the right Partners for Agile in Marketing. It is measured by Integration, Flexibility, Efficiency, Commercial Outcomes and Customer Focus. Starting at the Beginning, Changing the Mindset is key along with leadership, training and coaching. It comes down to strong leaders who believe in Agile for Marketing. From the results – Collaboration, Transparency, Leadership and Understanding have all improved along with staff being more engaged. Where next? Customer centricity, more diverse squads and improved stakeholder