Posted on
February 16, 2017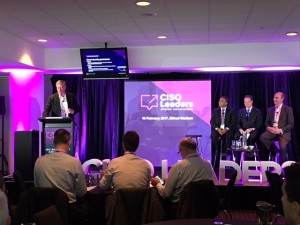 The first panel discussion focused on cloud security governance and was moderated by General Manager for Cyber Security Brian Hay who was joined by Syed Asghar of Vodafone, Ian Gibson of SuperChoice and Craig Pitts of Mondelez International.
This robust panel discussion attracted much interest from the audience of senior executives and covered issues related to cloud security governance such as how to keep up the pace, security policies, controls, regulations and awareness, KPIs for KRIs, the importance and benefits of an EXIT strategy and what have we learnt from the past?
Moderator:     
Brian Hay, General Manager, Cyber Security
Panellists:         
Syed Asghar, Information Security and Governance Manager, Vodafone Australia
Ian Gibson, Chief Information Officer, SuperChoice
Craig Pitts, Global Information Security Architect Lead, Mondelez International
Syed is a senior information security professional with proven track record of success in technology and Telecommunications sectors. A pragmatist that is approachable, with a passion for aligning the information security function to business goals. With over 19 years of experience in design, implementation and governance of complex security solutions in dynamic, fast-paced environments which hold vast amounts of customer information including Cloud, Telco networks and Data centers.
Ian is the Chief Information Officer and Responsible Officer for SuperChoice Services Pty Limited where he has been completely transforming the technology business. Prior to joining SuperChoice, Ian worked in senior executive and CIO roles including at Adaptra, CitiStreet, Link Market Services and the National Australia Bank.  He also co-founded a boutique consulting firm and has worked with several technology start-ups. Ian was a Partner in Accenture's Strategy practice where he focused on business and IT-enabled strategic and operational planning.  His consulting work ranged across several industries, both locally and internationally, and for some of the largest clients in their respective industry. Ian is also a Non-Executive Director and Company Secretary focusing on technology start-ups and NFPs. Ian has a BSc (Computer Science & Mathematics) and an MBA from Melbourne Business School and is a Fellow of the Australian Institute of Company Directors.  He is a regular speaker and has authored more than 43 publications including twice nominated for Thought Leadership awards.
Craig is an IT leader with over 18 years' experience and brings together disparate, global and virtual teams to deliver secured outcomes for operational, M&A and efficiency programs. Additional to this, he is in his 6th year as Director and Executive Member for a 3000-home resort management company.
Working at Mondelēz International as the Global Information Security Solutions Architect Lead, he is responsible for ensuring the global business can be agile with critical information whilst data is safely protected and the multitude of cross-border laws and legislations are considered.
Current key focus areas are:
Strategic cross-company communication
Critical and confidential data handling in a inside/outside world
Managing data and system exposure in 'cloud' environments
Recently, he has been leading the charge to secure supply chain environments, systems and data at over 150 manufacturing sites globally while dealing with shadow IT organisations.
#CISOLeadersSummit #MediaCorpInternational