Posted on
February 16, 2017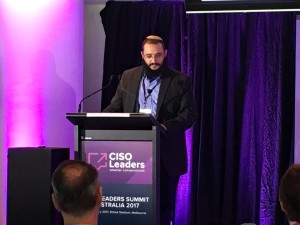 Kobi Ben-Naim – Senior Director of Cyber Research at Cyber Ark discusses 'Cyber security nightmares: lessons for Australian businesses'.
Kobi Ben-Naim of Cyber Ark talked to the audience today about privileged accounts that are often referred to as the "keys to the IT kingdom" because of the powerful access they provide to servers, databases and applications, and the sensitive data housed within. Therefore, it is not surprising that these powerful credentials have been exploited in nearly 100% of advanced attacks in the past years, i.e. the Bangladesh Bank Heist, the Ukraine Blackout, the ATM attacks in Taiwan, and the number of ransomware cases targeting healthcare providers across the globe. Reality is, in all cases, the determined attackers manage to break through the target's perimeter security defences and exploit unprotected privileged credentials to masquerade themselves as an insider and roam around the network undetected, disable security controls, steal confidential information, commit financial fraud and/or disrupt operations.
So how do cyber-attackers use stolen, unprotected or misused privileged credentials to take full control of an organization's IT infrastructure? This session examined real-life case studies that explained how attackers exploit privileged IT credentials to successfully gain access and move about the targeted network. The session also analysed the role privileged account security plays in meeting Australian compliance laws – the "Top 4 mitigation strategies" recommended by Australian Signals Directorate.
Kobi is an accomplished information security professional, well-known for his pioneering work in the field of Advanced Persistent Threats (APTs) and Zero-Day Attacks. Before leading the Cyber Research for CyberArk, Kobi was co-founder of Cybertinel, an Israeli successful start-up, acquired by CyberArk in 2015. Prior to Cybertinel, Kobi served as an Information Security Specialist with the Israeli Ministry of Foreign Affairs, where he led the ministry's anti-hacking team.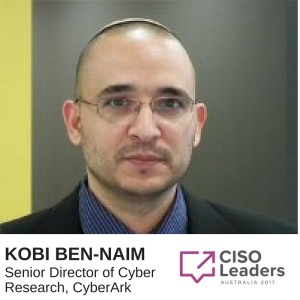 #CISOLeadersSummit #MediaCorpInternational