MODERATOR:
Mika Joronen, Country Manager – Fujitsu New Zealand
PANELISTS:
Deane Johns, Chief Information Officer – Co-op Money NZ
Angela Henderson, General Manager, Digital Transformation –  Air New Zealand
Lucy Cobb, Head of Digital Workplace Services – Fujitsu New Zealand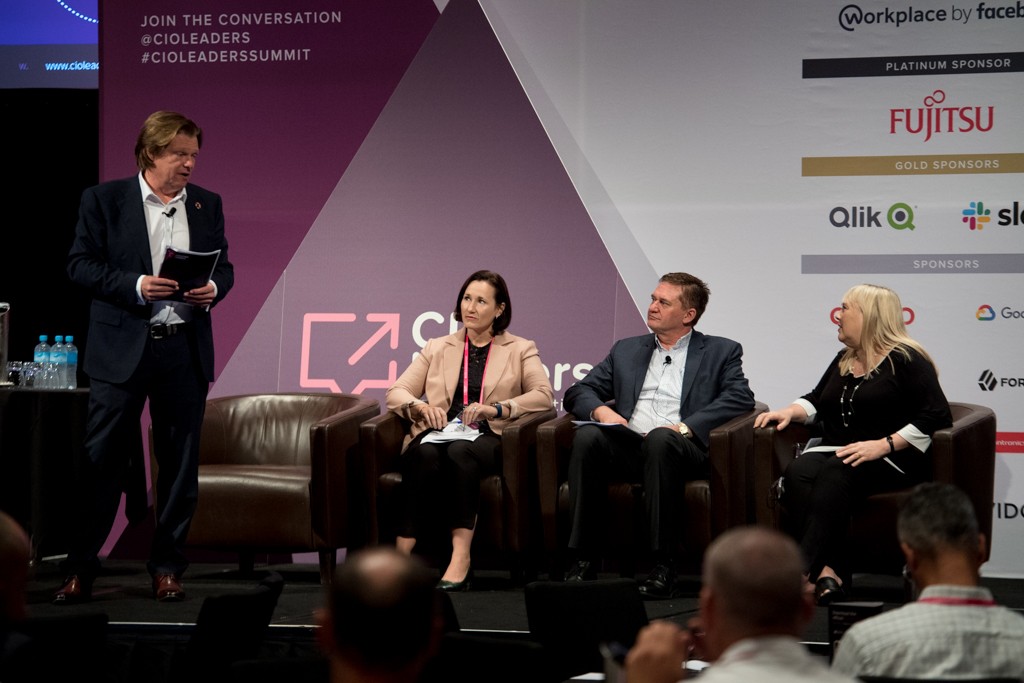 We heard from a great group of lead expert panelists on the never ending Digital journey. Start-ups are using new technologies to disrupt industries of all types and changing the way customers think. They are able to disrupt industries overnight. With Disruption at the forefront of most businesses it is critical for CIOs to lead their organisations in a way that make them as agile as their competitors. The main topics discussed were:
CIO's disrupting before they are disrupted
The next steps on this Digital Journey
Lessons they have learnt
ABOUT MIKA JORONEN
Mika Joronen was appointed in the role of Country Manager of Fujitsu New Zealand Limited in October 2018. Mika is responsible for driving the company's business strategy and developing Fujitsu's presence as one of the most respected Technology Services Integrators in New Zealand.
Mika is a talented and seasoned executive with experience in technology services and organisational leadership. He brings a wealth of expertise with particular strengths in areas such as client engagement, capability development, profit and loss management (P&L), strategy and long term budgetary development and oversight. With an abundance of services experience and proven track record, Mika has a strong understanding of the New Zealand and Australian markets.
Mika's qualifications include Bachelor of Information Technology as well as number of industry specific qualifications in areas such as strategic negotiations, quality assurance, service operations and general management.
ABOUT DEANE JOHNS
Co-op Money NZ and wholly owned subsidiary Co-op Services NZ supports member Credit Unions and customers by carrying out back office banking function.
I lead the team and specialise in Payments, Core Banking, ATM management and switching and scheme card interfaces and management.
Have lead the delivery of a core banking implementation that has seen three credit unions to date go live migrating successfully from old legacy system to Tier 1 banking platform.
Co-op Money NZ is the sixth largest trans-actor in the NZ Payments market by volume with multiple products to support members.
Co-op Money has the largest ATM network in New Zealand with over 1000 ATM's connected to our payments switch.
I lead the team that provides the services to our Member Credit Unions, Associate Members and customers.

ABOUT ANGELA HENDERSON
Senior leader with 17 years management experience leading diverse successful teams (60+FTE), driving cultural and transformational change portfolios of over $100m in large national and international financial services companies.
A transformational change agent with experience in delivering large scale business delivery, process and cultural change. Nationally recognised leader in successful Agile deployment and delivery as well as corporate wide change delivery. Deep experience in Portfolio Governance, Change Management in large corporates and ability to build and develop new teams to achieve organisational goals.
A strong advocate for women in business and technology. Leader of Women in Westpac and Westpac Women in Technology as well as founding member of the board of trustees for the Valens Group.
ABOUT LUCY COBB
Lucy has over 30 years' experience in all aspects of IT, including delivery, consulting, sales and application development. Originally from the UK and now living in New Zealand, Lucy's experience working across the globe has given her great insight into how services should be designed to enable her customers business.
As Head of Digital Workplace Services for Fujitsu Oceania, Lucy uses the extensive background she has in ICT to create digital workplace solutions that deliver to the outcomes our clients are seeking. Her focus is on creating Fujitsu's strategy for the Digital Workplace; building and delivering great solutions for her customers. From delivery of end user services, to providing service intelligence, from provision of devices and their support, to fully featured digital workplaces; each service is designed to enhance business productivity, mobility, security and collaboration.