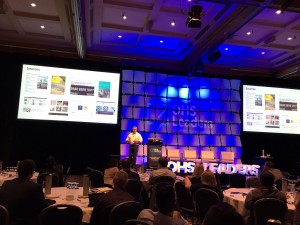 Richard Coleman, Former General Manager HSE of Asciano delivered the closing keynote presentation of the 2017 OHS Leaders Summit Australia on 'It's the end of the world as we know it and I feel fine'. In this presentation, Richard discussed aspects of the key drivers of change for the OHS profession. These included changes to the organisation and structure of work; digital and technological disruption; and global political trends. Richard also made the case that the OHS profession is likely to be both (a) one of the most personally disrupted professions, as our jobs disappear; and (b) the biggest beneficiaries, as our aims are increasingly met. 
After nearly 30 years in Executive Safety, HR and Operational roles, Richard Coleman has built a wealth of experience about what works and what doesn't work in changing organisational culture. His passions and interests now lie in the intersection between the on-rushing digitisation of work, organisational capability and the executive role in riding and steering those changes.
Richard's closing keynote presentation capped off a stellar two days of special guests delivering incredible presentations, discussions, workshops and roundtables at what was the best OHS Leaders Summit in the event's history.
#OHSLeadersSummit #MediaCorpInternational