Posted on
August 16, 2016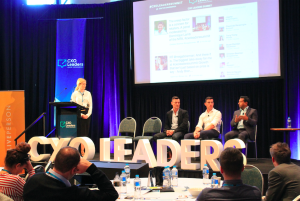 The 2nd Annual CXO Leaders Summit hosts a Keynote Panel discussion on 'Challenges around creating an omni-channel experience for a retail business'. Dominique Lamb, Director, Legal Division for the National Retail Association moderated this Keynote Panel Discussion. Dominique has an extensive experience providing industrial relations and employment law advice to a range of small, medium and large businesses across a range of industries. Dominique brings a level passion and motivation to her role which is hard to find. In 2011, she was awarded the Australian Institute of Management's Young Gun of the Year Award. In her downtime, Dominique is a strong advocate for the Women's Legal Service Queensland, as well as being involved in associated fundraisers.
The Panel was joined by Peter Ratcliffe, Head of Digital for the Retail Apparel Group. An accomplished IT & Digital senior executive with experience across a variety of industry sectors. I have spent the last 2 years in a pivotal role in heading up the Digital area for The Retail Apparel Group, home to the well known menswear brands – Tarocash, yd, Johnny Bigg and Connor. Leading a team of dedicated professionals, we successfully launched 4 menswear sites for the brands, all of which are achieving results beyond expectations. During this time, I also drove the Database Acquisition and CRM and Omni Channel strategy across all four brands.
Also joining the panel was Christian McGilloway, Head of Digital for Retail Zoo also was a panellist. A strategic, multidisciplinary developer with an eye for innovation Christian heads up the fastest growing department at Retail Zoo, responsible for all brands presence on the digital landscape. A digital native with over 14 years' experience in the UK & US, having worked on variety of projects for clients including BBC, MTV, Barclays Bank and AAA Game developers.
Chaminda Ranasinghe, Head of Digital Sales and Marketing for ANZ was the final panellist. Chaminda is an accomplished eCommerce leader and strategic Digital Marketer with post-graduate qualifications and extensive experience in the financial services, automotive, computing, retail and consumer sectors. Having worked for a number of blue chip companies both in Australia and abroad, Chaminda has diverse experience at transforming organisations into innovative, profitable and market leading digital businesses across the globe. In his current position with ANZ, Chaminda is responsible for driving significant sales growth of ANZ products through the digital channel, leading the Digital marketing function and development of digital strategies including content strategy, effective SEO, SEM and Social media