Posted on
August 16, 2016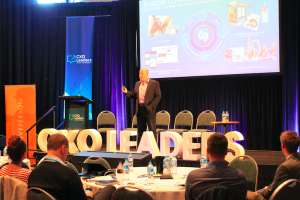 The 2nd Annual CXO Leaders Summit strives for innovation and provides attendees with reliable and thought-provoking presentations. We were proud to welcome Steven Sos, VP APJ from Shazam to speak on 'Making Brands Clickable'. Steven spoke on how Shazam is making brand clickable and what are some of the best explain globally of marketers and brands using Shazam's proprietary technology to do exactly that. Marketers all over the world continue to grapple with how to best link physical to digital in a world where the latter is becoming an increasingly  critical aspect of customer engagement and retention.
Steven is responsible for all commercial aspects of Shazam's APAC operation. Drawing on over 20 years of experience in media sales across mobile, television, online, magazines and newspapers, Sos is responsible for the growth and expansion of the businesses core sales proposition, leveraging mobile technology to extend engagement from a brand's traditional consumer touch points.
Prior to joining Shazam, Steven was with Mobile Embrace, one of Australia's leading integrated mobile and digital communications companies as their Head of Sales. There, he helped build the Mobile Embrace brand from inception and drove sales revenue and solutions across three core competencies, including mobile advertising.
He also spent 12 years with Multi Channel Network, where he was responsible for maximising advertising revenue across 50 national STV channels and a multitude of channel and independent websites. During his tenure he was an early advocate and sales pioneer of their then fledgling digital interactive services offering.
Steven began his career in media sales working at News Corporation on The Australian Newspaper before moving to Fairfax Media to work on their stable of business magazines.