Posted on
February 16, 2017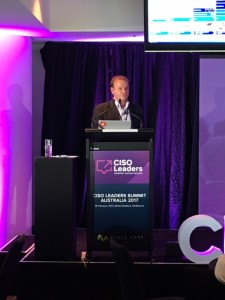 Jonathan Jackson, Head of Technical Solutions APAC and Japan at BlackBerry speaks to delegates on 'Cyber security and innovation: protecting business IoT, cloud and mobile systems'.
Jonathan Jackson, Head of Technical Solutions APAC and Japan for BlackBerry spoke to the 2017 CISO Leaders Summit in Melbourne about how businesses today need to embrace innovative technology such as Enterprise of Things, cloud and enterprise mobility to remain competitive. He also raised several questions such as:
What is the price of this innovation?
In a world when cyberattacks are increasing in frequency and severity, how do you ensure your innovation is protected?
How can businesses and Government ensure that in today's ubiquitously connected world your networks are safe and secure?
What is the role of cloud, mobile or IoT technology providers to ensure the systems are secure?
Does employee risk to cyber security increase with an increasingly mobile workforce? How best to manage this?
How can customer-facing enterprises balance great technological innovation for customers with the need to protect their data and that of corporate IP?
BlackBerry is a security company, specialising in securing mobile workplaces. Jonathan showed delegates how to protect their corporate sensitive data and multiple endpoints with BlackBerry Secure.
Jonathan brings over two decades of tactical experience in the development and management of secure, scalable systems. He has been with BlackBerry for 4 years and was the Head of Security Advisory for ANZ before assuming his current role. Jonathan advises customers navigating the world of enterprise mobility and cyber threats, working with them to develop a mobile strategy that satisfies both the demands of IT and end users now and in the future.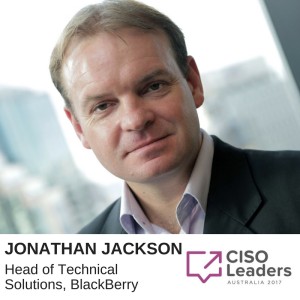 #CISOLeadersSummit #MediaCorpInternational