Posted on
February 16, 2017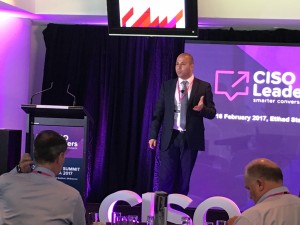 'The changing nature of cyber-attacks: current trends' was the workshop topic presented by Dr Mamoun Alazab, Cyber Security Lecturer at Macquarie University, at the 2017 CISO Leaders Summit.
Dr Mamoun Alazab, Cyber Security Lecturer at Macquarie University conducted a workshop at the 2017 CISO Leaders Summit on 'The changing nature of cyber-attacks: current trends'. This workshop highlighted that there is a lack of understanding about the cyber-attacks and what mechanisms can be used in improving both detection and prevention.
Providing a secure cyber space is now a key concern for governments and private sector organisations throughout the world, which requires development of critical infrastructure and an organisational and national/international research agenda supported by multidisciplinary expertise. This presentation provided an overview of cybercrime from a technological and a criminological perspective, and explained how criminological theories can be applied to mitigate cyber-attacks.
The purpose of this presentation was also to describe recent trends, such as zero-day exploits, botnet attacks against internet banking applications, the emergence of the darknet, the role of organised crime, cybercrime-as-a-service, ransomware, and spear phishing emails. Dr Alazab also illustrated how new analytics can be used to uncover hidden patterns in cyber-attacks such as malware and spam emails, draw on real world data.
Dr. Mamoun Alazab is a Cyber Security researcher and practitioner with industry and academic experience. He holds a PhD in IT Cyber Security in 2012. Dr. Alazab's research is multidisciplinary and includes both technological and criminological perspectives of computer crime, with a focus on crime detection and prevention. Dr Alazab works as a Lecturer in Cyber Security at Macquarie University. He is lead investigator at the Australian National University (ANU) Cybercrime Observatory since 2012, he is Adjunct Senior Research Fellow at the ANU. He has published more than 50 research peer-reviewed papers, and is widely cited. Dr Alazab worked as an Assistant Professor at the American University of the Middle East, and was also awarded Japan's most prestigious academic award a fellowship from the Japan Society for the Promotion of Science through the Australian Academy of Science in 2015. He is a Senior Member of the IEEE, Cybersecurity Academic Ambassador, and has worked closely with government and industry on many projects, including IBM, UNODC, Trend Mirco, the Australian Federal Police, the Australian Communications and Media Authority, Westpac, and the Attorney General's Department.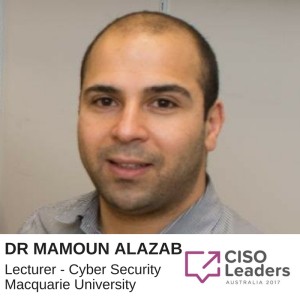 #CISOLeadersSummit #MediaCorpInternational