PANEL DISCUSSION
Moderator:
Chary Chigurala, Head of IT, Laminex
Panellists:
Berys Amor – Director of Technology, Corrs Chambers Westgarth
Damien Scalzo – Chief Information Officer, Mercedes-Benz Financial Services AU/NZ
David McGrath, Chief Digital Officer, Clubs Australia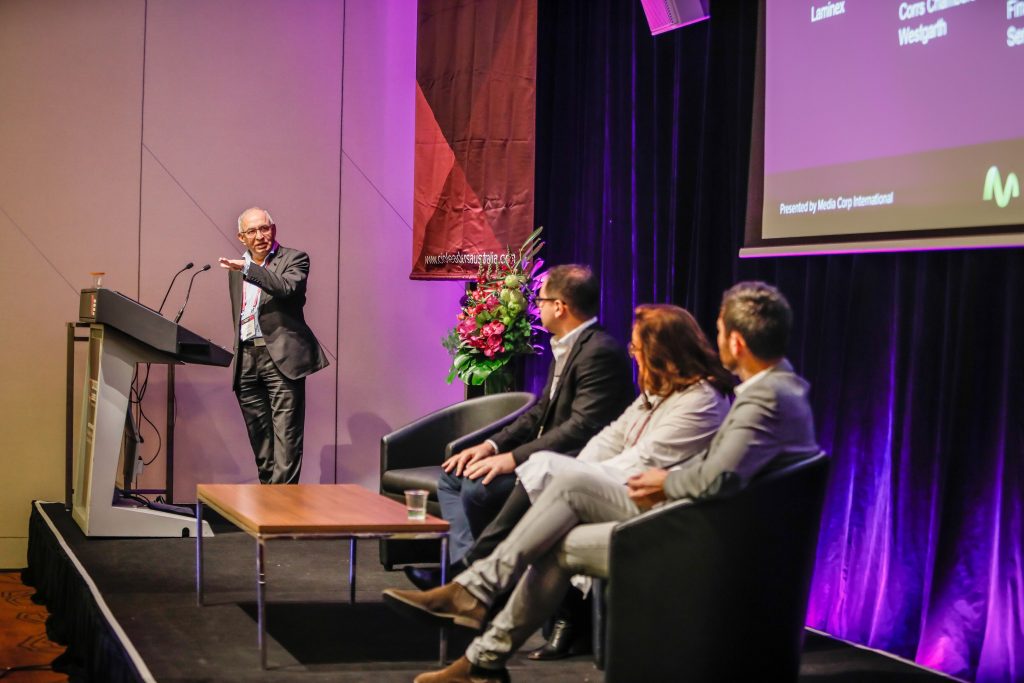 Chary hosted a panel discussion that shared insights and knowledge on how we can ensure security in a digital first age. The cyber threat landscape that is evolving at a phenomenal rate is not just new modes of attack or increased points of vulnerability that are proving problematic for security professionals it is also attitudes towards security are changing, too. Comfort levels with sharing information, transacting online and trusting third parties have never been higher.
ABOUT CHARY CHIGURALA
A proven leader with 25 years industry experience in Fortune 100 and ASX 100 companies. He is incredibly passionate about designing and implementing future focused IT organisation strategies to succeed in the digital markets. His core skills include:
Providing vision and strategic leadership
Digital strategy
IT strategy & architecture
Leading high performance teams
Business engagement
IT enabled business transformation
Consulting
Large deal creation
P&L and budget management
Large projects management
Vendor management
IT service delivery and reporting
ABOUT BERYS AMOR
Berys Amor has worked in the legal sector for more than 25 years, starting in finance administration and then moving into information technology. She has worked for a number of top ten law firms and managed a range of areas within technology, including service delivery, training, system administration and project management. Berys has extensive experience in project management, having been a part of several large office moves and fit outs, major systems implementations and upgrades as well as the change management processes for implementing new systems.
Berys' current role as Director of Technology at Corrs Chambers Westgarth involves collaborating with key business stakeholders to understand the business objectives and factors of success in the industry, and developing and implementing the IS strategy in line with the overall business strategy. She manages a national team which includes client technology solutions, IT project delivery, IT training, helpdesk and service delivery, and infrastructure and applications support. Berys is also a Knowledge Advisor for the International Legal Technology Association and was selected for CIO Australia's top 50 CIOs for 2016.
ABOUT DAMIEN SCALZO
As a technology leader I am responsible for:
– creating an IT vision and delivering the IT Strategy in alignment with the business strategy
– instilling structure, discipline and prioritisation across IT activities
– planning and governance of all IT Plan, Build and Run activities
– building and coaching a highly effective team across Australia and New Zealand
– make or buy decisions
– contract negotiations
– supplier management
– IT risk and security management.
From 2014 to present I have extensively scaled the size of the team, IT landscape and delivery velocity.
With many years of experience with custom development implementations, I often support my team during detailed technical decisions in relation to architecture, integration, code, databases and infrastructure. This supports the best decision for the business, gains respect from my technical staff and leads to the creation of a culture of collaboration and best practice sharing within the team.
ABOUT DAVID MCGRATH
David is a globally credentialed technology executive, specialising in data-driven digital transformation across corporations of various sizes and locations. Successfully developing and implementing large scale company-wide change, David's recent projects include the technical coordination and build of large scale data assets, importantly including its protection through security, governance, and data regulatory compliance.
Complementary to this approach is also the ability to successfully craft an operational structure for "all of business", including educational change at a departmental level endorsed through Executive / Board buy-in.
David's career background also includes digital product monetization, customer / audience growth, plus extensive digital marketing (programmatic) utilising data intelligence. David has successfully built teams from scratch as well as taken on established corporate units, leading both content, development & sales across APAC (including Japan), UK and the US.
Other elements include being a member of various Boards, Advisory Boards, and Investor relationships across technology and Not-For-Profit organisations, as well as being a sought after speaker at industry conferences.