Posted on
January 22, 2020
Moderator:
Andrew Barrett, Chief Connector – Safety on Tap
Panellists:
Darcy Robison, Director, Global EHSE, Pentair
John Green, Senior Vice President EHS, AECON
Diana Cosgrove, Danaher Water Platform, Chief EHS Officer, Danaher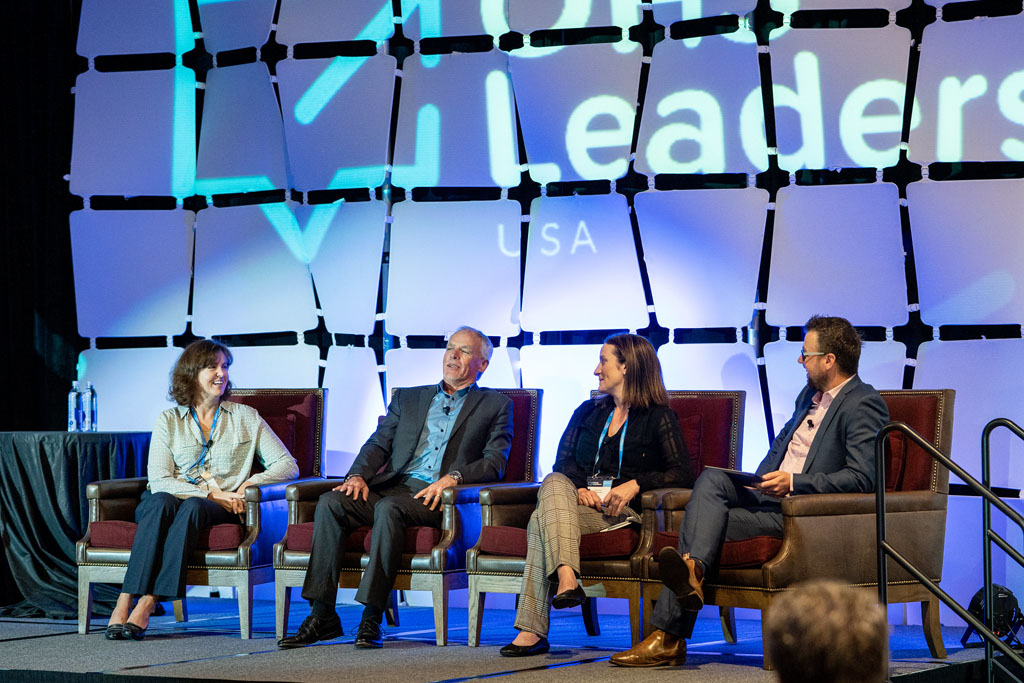 This panel discussion from a range of industry experts explored the ever-changing dynamics in the role of a health and safety leader from
where it was to where it is today and how to prepare for the future of the role as a safety leader.
ABOUT ANDREW BARRETT
I like it outside the box. It's not as comfortable as inside the box, but way more fun, I learn heaps, and make a bigger difference in the world. Sometimes it's just outside the box, and I beckon others to join me. Other times I run towards the edges, seeing how far I can go.
So, how can I help you?
– I created a podcast for you at safetyontap.com, to support as many professionals as possible improve your capability, to become more effective, and in turn have greater impact. Have a listen, it's free (and there's plenty more good stuff on the website you should check out, including events)
– I curate a community of people in the growth accelerator Safety on Tap Connected. Members learn socially, and develop through coaching from me (with some very intentional educational content there too). A better investment than a point-in-time conference.
– I work with safety leaders and companies who want to go beyond the status quo, whether that's improving on what you've already got or drastic changes more akin to Safety II/safety differently. It often ends up looking like workshops, facilitation, comms, strategy, OD and systems work. Should you and I co-design something and take action like that?
– I love getting together with groups of people. I do this often at conferences, breakfasts, and random social gatherings. I am a connector of people with each other, and with new ideas. Should we meet sometime?
ABOUT JOHN GREEN
John has worked in the oil, gas, petrochemical, electronics, heavy engineering, construction and aviation sectors and has 40 years' experience of industrial safety. He is recognised and respected as someone who does safety differently and as major force for change in how industrial safety is delivered.
He has spent periods living and working overseas with in the Dubai, Iran, Europe, Hong Kong, New Zealand, parts of the USA and has recently returned from a 5-year spell in Australia covering major construction operations in the southern hemisphere. He know lives in Canada.
He has held senior positions with Motorola, British Airways and Board level positions with McAlpine, Laing O'Rourke, Battersea Power Station Development Company and now AECON. He is currently the SVP and CSO for Aecon.
John holds qualifications in Occupational Health and Safety, Environmental Mgmt, Risk Mgmt, Change Mgmt, Psychology, Law and Philosophy and is currently studying towards a LLM. He is an advocate of doing safety differently and challenging traditional or orthodox thinking.
He spends any spare time that he has climbing in Europe and scuba diving across the world or any other pastime that requires exceptional risk management skills.
ABOUT DARCY ROBISON
Darcy Robison is the Director of Global Environmental, Health and Safety for Pentair. She is based in Oklahoma City, OK and is responsible for setting strategy to drive excellence in Pentair's Environmental, Health and Safety performance across the enterprise. Before joining Pentair, Darcy held various EHS and Quality leadership roles with PPG Industries, Avery Dennison and Stericycle. She holds a BS degree in Chemistry from Missouri University of Science and Technology and a MS degree in Environmental Science and Policy from The University of Wisconsin-Green Bay. In her free time you will find Darcy volunteering at her local women's shelter, campus environmental group or animal shelter. She also enjoys kayaking, motorcycling, hiking and is learning to play the cajon.
ABOUT DIANA COSGROVE
"Diana is the Chief EHS Officer for Danaher Corporation's water quality business platform since January 2018. She is responsible for driving EHS strategy, staff development and supporting operating companies in achieving recognized performance after serving as the Danaher Director, EHS Governance form 2012-2017.
Diana is a UCLA graduate (MS) and a Certified Industrial Hygienist (CIH) with a career encompassing experience in a number of corporate entities including those in technology, mining, smelting and refining, and defense manufacturing fields. "