Posted on
August 16, 2016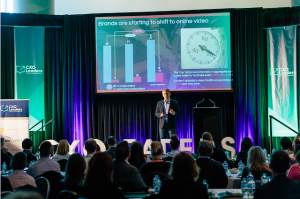 Opening the 2nd Annual CXO Leaders Summit Australia with 'Storytelling in the Digital Age' was the Chief Marketing Officer APJ of Google, Simon Kahn. Simon is responsible for marketing strategy, development, and execution for Google's Consumer facing and B2B products and solutions in Asia Pacific. Simon served on AmCham's Board of Governors for six years including three years as Chairman. Previously, he worked at American Express for thirteen years including serving as Country Manager for Singapore from 2008 to 2011. Prior to joining American Express, Simon was the Executive Director of Youth Venture, a nonprofit organisation that works with young people to develop and run their own businesses and organisations.Simon worked in national politics and government for four years before joining Youth Venture including working in the White House Liaison office in the Department of State. He holds a BA in Asian Studies from Swarthmore College and a Masters in Chinese Studies and MBA from the University of Michigan. Simon is married with three young sons.
Simon started by discussing how consumers are uploading videos to youtube. Every minute 400 hours worth of content is getting uploaded all over the world. It's not the number of views or likes, its all about engagement.
During the Speaker Session, Simon shared how online videos enable people to lean in and have a more intimate conversation with brands. Simon also spoke about how online videos are a rich space where companies can engage with its customers in a variety of ways. By Utilising this format, brands can tell immersive stories, facilitate engagement and ultimately win the hearts of their audience.