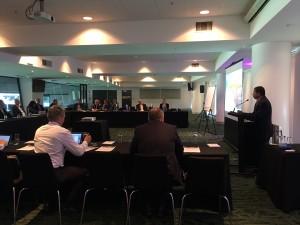 Bish Rath, SVP and Head of ITO & Digital Business at HCL Technologies hosted a roundtable discussion at the 2017 CIO Leaders Summit Australia on 'Automation & AI: Creating a human-machine partnership to run your business better'. Automation and AI has helped empower humans to do higher-order, high-complexity tasks better in infrastructure, applications, business processes and engineering. This discussion allowed delegates to learn from Bish Rath, SVP and Head of ITO and Digital business at HCL Technologies, who is a renowned industry thought leader and an active industry practitioner. Bish has worked as a consulting practice leader and consultant for several G2000 companies and provided consulting and advisory services in the areas of organisation change management, operating models, IT integration for M&A entities, Strategic IT sourcing, multi-channel strategy for retail, financial services, manufacturing and the utilities industries.
Bish has over 20 years' experience in business management (P&L), sales management across large scale outsourcing, transformation consulting and systems integration. He has set up new business units, managed $200 Million/year services business end-to-end and delivered year-on-year growth and EBITDA target. Bish has managed multi-country business operations; managed large scale IT outsourcing engagements; and managed IT consulting and application services business unit for global leaders. He has received a Bachelors in Engineering and MBA degrees and his specialties include: experience in full spectrum of IT business, diverse geo experience,
large deal strategy and competitive win back, cost take out and performance improvement,
and global delivery.
#CIOLeadersSummit #MediaCorpInternational