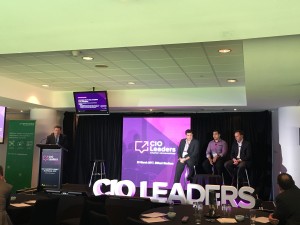 The second panel discussion at the 2017 CIO Leaders Summit Australia focused on 'Leveraging cloud to stay competitive in the marketplace' and was moderated by John Brand, VP Advisor for Forrester Research who was joined by Bernard Wansink, Chief Information Officer at Schiavello Group, Ajay Bhatia, Group Chief Information Officer at Carsales.com and Ian Gibson, Chief Information Officer at SuperChoice.
Today the marketplace is constantly changing and the pressure to stay competitive is increasing at a rapid pace. One way to avoid falling behind is making the switch from on premise systems like Microsoft Dynamics to cloud-based solutions. Reaching growth and expansion goals means approaching them in new ways with modern technologies. In this session the panellists discussed the challenges businesses are faced with in today's landscape along with the requirements around real time visibility to make decisions quicker and scalability.
Moderator:  
John Brand, VP Advisor, Forrester Research
Panellists:     
Bernard Wansink, Chief Information Officer, Schiavello Group
Ajay Bhatia, Group Chief Information Officer, Carsales.com
Ian Gibson, Chief Information Officer, SuperChoice
John serves CIOs with research that focuses on the enterprise adoption of new software and Internet technologies. With more than 25 years of experience in IT, he is widely regarded as one of the top Internet and IT industry analysts in Asia Pacific. He is regularly invited to speak at industry events and is often quoted in the press around the globe. John has extensive industry knowledge in financial services and the media and entertainment industries, as well as a broad range of commercial and noncommercial industries. He has produced world-leading research in the areas of enterprise content management, business intelligence, data center transformation, the impact on security by social computing, and many other technology- and business-related topics.
Bernard is Chief Information Officer at Schiavello Group and has developed and managed innovative ICT strategies for more than fifteen years. As CIO, Bernie is responsible for the strategic alignment and management of the Group's ICT strategy with the corporate vision, with a focus on strategic planning and development, organisational restructuring, change management and delivery of value to organisational operations. Previously, Wansink was Chief Technology Officer at Schiavello Group. He holds an MBA in Technology Management, CPPD (AIPM), CRISC (ISACA) and PRINCE2 qualifications.
Ajay is currently the Chief Product & Information Officer of Carsales.com LTD (ASX TOP 100 company) and was a former Product and Technology Director at Fairfax Digital. Ajay is a Commercially focussed leader with technical thought leadership experience. In 2015 Ajay was awarded the Australian CIO of the year by CEO Magazine, while in 2013 the CIO magazine awarded Carsales/ him with the top innovation award. During his 5 year tenure at Fairfax Digital, Ajay held several technical and commercial leadership positions. He has over 16 years of experience in Technology. Ajay holds a Bachelors degree in Engineering from University of Technology, Sydney and a Masters in Management from the same University.
Ian is the Chief Information Officer and Responsible Officer for SuperChoice Services Pty Limited where he has been completely transforming the technology business. Prior to joining SuperChoice, Ian worked in senior executive and CIO roles including at Adaptra, CitiStreet, Link Market Services and the National Australia Bank. He also co-founded a boutique consulting firm and has worked with several technology start-ups. Ian was a Partner in Accenture's Strategy practice where he focused on business and IT-enabled strategic and operational planning. His consulting work ranged across several industries, both locally and internationally, and for some of the largest clients in their respective industry. Ian is also a Non-Executive Director and Company Secretary focusing on technology start-ups and NFPs. Ian has a BSc (Computer Science & Mathematics) and an MBA from Melbourne Business School and is a Fellow of the Australian Institute of Company Directors. He is a regular speaker and has authored more than 43 publications including twice nominated for Thought Leadership awards.
#CIOLeadersSummit #MediaCorpInternational