Posted on
September 16, 2015
Basker Rangachari, Global Head of Brand & Retail Marketing, Standard Chartered Bank provided the FSI Leaders Summit with the Keynote Presentation, "Rise Of The CMO And The Implications For You," at the FSI Leaders Summit 2015.
During this presentation, Basker spoke on the vital relationship between the CIO and the CMO…stressing the pertinance of communication, education and collaboration between these C-Suite roles. He talked about how the power of information is in the hands of the customer and the importance of being fruitful to the marriage with the customer due to this easily accessible information. Basker highlighted the evolving role of the CIO and the CMO stating, "We're not that different." Basker spoke on…
Power shift in the Board and C-Suites
The near death and sudden revival of the CMO
Does Marketing matter in this social-media environment of advocacy and sharing
Evolving roles in C-Suites in today's customer-driven world
Understanding the CMO and what drives them
Collaborate to Thrive? or Kill to Survive?
Designing your success game plan
[vc_images_carousel images="455,454″ img_size="large"]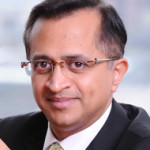 Basker Rangachari Global Head of Brand & Retail Marketing. Basker Rangachari's role covers across all segments including Retail, Commercial, Private, Corporate and Institutional Clients globally. Since joining SCB in 2005, he has held leadership positions in Unsecured Lending, Bancassurance, Strategic Alliances, Customer Loyalty and was recently CMO North East Asia prior to his current role.
Basker has received several industry awards including Marketer of the Year; Brand of the Year; Digital Marketer of the Year; Top 50 CMOs in Asia Pacific; etc.
Prior to SCB, Basker worked in MasterCard International, where he rebuilt their Thailand business with 300% revenue growth, doubled market share and built many strategic alliances regionally.
Basker has 27 years business experience across multiple industries and disciplines, and has lived in India, Dubai, Singapore, Australia, Hong Kong and Thailand. He is a Gold Medallist Chartered Certified Accountant (UK), with a Masters degree from University of Technology Sydney.