Synopsis and overview of the session
What do SpotCheck, Stemcell, Medtronic, NHS England have in common? They had an idea and a need that they wanted to digitise – FAST!
Focus Network, in partnership with OutSystems, will bring IT leaders in Australia's healthcare space for a discussion with Omar Shraim, IT Senior Director in ATC and CIO for Sapphire© HMS, who achieved true agility in digitalising complex hospital systems for the healthcare industry in Kuwait whilst ensuring that the systems met the parameters set by the Kuwait Ministry of Health.
This is a great opportunity to have a conversation with Omar and your peers in the healthcare industry
Discuss the lesson learnt in 2020, challenges ahead and how technology can help to enable patients and health outcomes rapidly, seamlessly and at the scale required.
A time to rethink digital initiatives that may have been previously de-prioritised due to various reasons, such as lack of funding and maybe also re-examine traditional approaches to digitisation; build, buy or both?
Further, how can organisations that have ramped up technology adoption keep the momentum going?
Key takeaways:
Leverage existing investments and teams whilst augmenting your business with value added innovation through rapid application development
Build a transformation velocity that is responsive to your company's needs and can weather external influences (regulations, uncertainties, and disruptions)
Adopt a modern, development platform without overwhelming the business and taking too much risk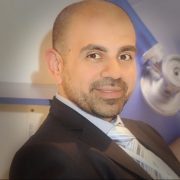 Omar Y Shraim, IT Senior Director in ATC & CIO for Sapphire© HMS
Omar Shraim is a skilled and internationally experienced business and tech leader, with an outstanding testimony of success operating at tactical and functional levels planning and delivering $multi-million projects in challenging healthcare environments. As the CIO for Sapphire, Omar pioneered and led the business strategy for the product development of SapphireHMS as a modern hospital management solution that can be deployed & customized for any hospital or healthcare institution.
Omar brings significant experience in the healthcare industry understanding the challenges in this sector and how technology can be leveraged to improve patient care, administration, operational excellence and cost efficiency.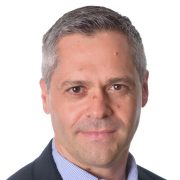 Paul Arthur, Regional Vice President, ANZ, OutSystems
Paul has spent over 20 years working with IT solutions vendors and partners across both Europe and Asia Pacific. Paul has a passion for improving the customer experience through the power of IT to drive the business value for his clients.
Paul has worked in several different industries and companies from global players to local start-ups, building businesses and teams that focus on customers needs and value drivers above all else.
Paul was employee number one at Cherwell Software APAC and most recently was General Manager at Australian start-up Data Republic.
About OutSystems
Thousands of customers worldwide trust OutSystems, the number one low-code platform for rapid application development.
Engineers with an obsessive attention to detail crafted every aspect of the OutSystems platform to help organizations build enterprise-grade apps and transform their business faster. OutSystems is the only solution that combines the power of low-code development with advanced mobile capabilities, enabling visual development of entire application portfolios that easily integrate with existing systems.
Named a Top Cloud Employer by Forbes four years in a row, OutSystems has offices worldwide and is currently hiring.
Website: www.outsystems.com
3:30 pm – 4:00 pm – Registration & networking
4.00 pm – 4.05pm – Welcome address
4.05 pm – 5.15pm – 3 course lunch served4.05 pm – 4.45pm – Embracing disruption in the financial services industry: A Privacy versus Security conundrum – Amanda Chan, BlackBerry
4.45 pm – 5.15pm – Demo
5.15pm – 5.45pm – Discussion
5.45 pm – 6pm – Closing remarks