Eric Linder, Executive Director, Health Safety and Security and Las Vegas Sands Corp, delivered a roundtable on "Advance Travel to Developing Countries"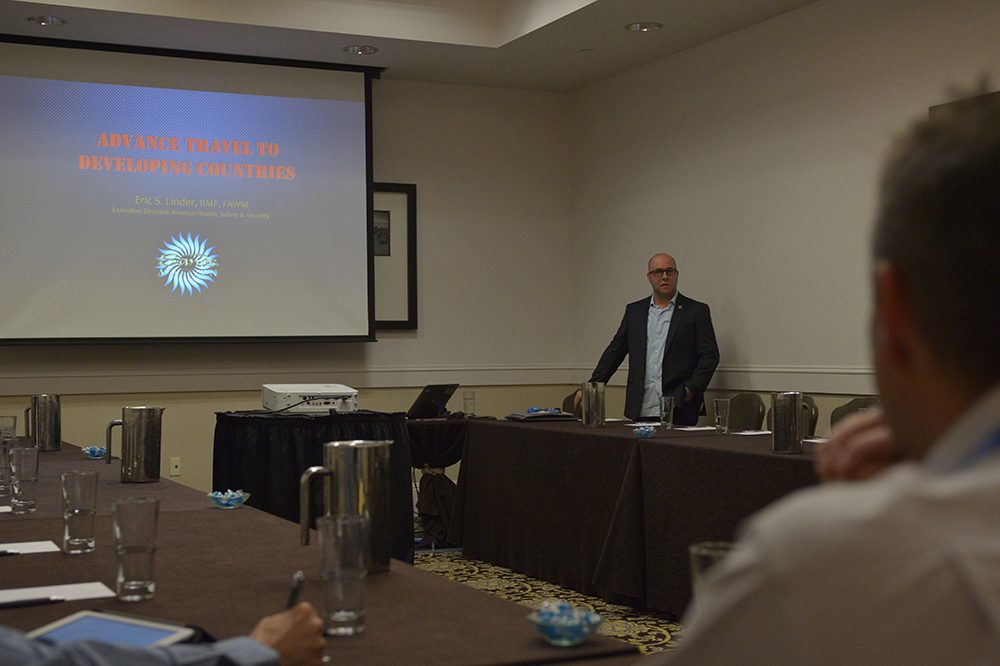 Learn to advance your companies employees and VIPs into developing and unsafe locations without them feeling any sense of fear. Learn to prepare and advance the locations, hospitals, embassies as well relations with local governments. Learn to respond to natural disasters and how to repatriate if necessary.
ABOUT ERIC LINDER
Over 25 years in Law Enforcement, Military, International Peacekeeping and Corporate Security & Safety. Started in 1986 in Aerospace Rescue in the USAF, later cross trained to Security Police (Honor Graduate) and served in Operation Desert Storm. Served as a Diplomatic Protection Agent. Recipient of several medals and accommodations to include the USAF Achievement Medal. Later joined the Las Vegas Metro Police Department and served in several units to include; Gang Intelligence, Fugitive Detail, Problem Solving Unit, Felony Apprehension Team, Field Training Officer, Tactical Medic and Crisis Negotiator. While on LVMPD, I received a international fellowship to Israel for intelligence, tactical medicine and counter terrorism. Worked in units to include; INTERPOL, Border Guard and IDF Special Forces Unit 669 (Pararescue), EPT for former Chief Rabbi of Israel. In 2002 after 9-11 I joined the newly revised Federal Air Marshal Program as an Agent and Instructor. I worked as a FAM for 2- 1/2 years in the Las Vegas Field Office. Received two on the spot cash bonuses for outstanding work ethics and creating a class now used in the FLETC academy. 2004 deployed to Kosovo on a International Peacekeeping mission as the Director of Major Crime, Command Staff position with 509 peacekeepers directly under my command and 7500 in-directly. Worked in forward post war area and personally conducted media briefings and traveled for delegations with Serbia officials. In 2007 I was hired by the Las Vegas Sands Corp., which owns and operates The Venetian Hotel, Palazzo Hotel, Sands Convention Center, Venetian Macau, Sands Macau and Singapore. I hold the position of Executive Director of Health, Safety & Security for the Aviation Department and international travel. As a remote medical practitioner (RMP) I practice expedition medicine in austere & remote locations in a professional and volunteer setting.