Synopsis and overview of the session
As cyber threats and the technology attack surface are growing exponentially during COVID-19, organisations are coming to realise that they must not only implement a strong cyber risk management program but also create a leadership culture that is resilient and able to recover when a cyber crisis hits.
Deloitte, in partnership with Focus Network, is bringing together leading IT executives from Power, Utilities and related sectors across Asia Pacific to discuss how to "Recover and Transform" after a cyber breach. All of the preventative measures in the world will not stop a determined adversary from gaining access to an environment and what happens next could mean the difference between a swift and successful recovery or a prolonged period of business disruption, amongst other potential impacts.
Deloitte cyber specialists will share first-hand experiences of extinction-level cyber breaches. Together with your industry peers, you will:
discover why ransomware attacks can be so devastating
gain insights into how cyber breaches impact OT/ICS
learn how to prepare to protect your organisation's critical assets
share your own experiences and perspectives
understand where and how to focus your security team's efforts
learn how to recover into the future
3:30 pm – 4:00 pm – Registration & networking
4.00 pm – 4.05pm – Welcome address
4.05 pm – 5.15pm – 3 course lunch served4.05 pm – 4.45pm – Embracing disruption in the financial services industry: A Privacy versus Security conundrum – Amanda Chan, BlackBerry
4.45 pm – 5.15pm – Demo
5.15pm – 5.45pm – Discussion
5.45 pm – 6pm – Closing remarks
Charlie Hosner, Cyber Partner, Recover and Transform Global Leader – Deloitte
Charlie is a Cyber partner based in London, UK, with 25+ years of experience in the information and industrial security industries. Charlie leads Deloitte's global recover and transform offering and has helped several of the world's largest organisations in a number of sectors – such as power and utilities, oil and gas, and transport and logistics – recover from 'extinction level' cyber breaches, building resilience into their operating models in response. Charlie has held security leadership positions in a number of global practices as well as spending time living in Singapore, Malaysia, the US, and the United Kingdom.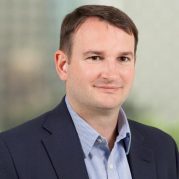 James Nunn-Price, Asia Pacific Cyber Leader – Deloitte
James leads Deloitte's Asia Pacific Cyber practice. He is a recognised cyber expert and successful business leader, contributing to service and cyber security innovation at businesses and regulators for over a decade. He has helped global clients recover from cyber breaches and worked with governments and regulators as part of the investigations and remediation programs. He has implemented good practice cyber operations, managed services, global cyber incident response capabilities and has led multiple complex award winning projects for clients. James has given key note addresses at conferences, been quoted a number of times in the press, written articles, appeared on live TV and radio, and won several awards.
About Deloitte
Deloitte refers to one or more of Deloitte Touche Tohmatsu Limited ("DTTL"), its global network of member firms, and their related entities (collectively, the "Deloitte organization"). DTTL (also referred to as "Deloitte Global") and each of its member firms and related entities are legally separate and independent entities, which cannot obligate or bind each other in respect of third parties. DTTL and each DTTL member firm and related entity is liable only for its own acts and omissions, and not those of each other. DTTL does not provide services to clients. Please see www.deloitte.com/about to learn more.
Deloitte is a leading global provider of audit and assurance, consulting, financial advisory, risk advisory, tax and related services. Our global network of member firms and related entities in more than 150 countries and territories (collectively, the "Deloitte organization") serves four out of five Fortune Global 500® companies. Learn how Deloitte's approximately 312,000 people make an impact that matters at www.deloitte.com
Website: www.deloitte.com