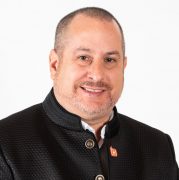 Morey J. Haber, Chief Technology Officer & Chief Information Security Officer, BeyondTrust
Morey J. Haber is Chief Technology Officer and Chief Information Security Officer at BeyondTrust.
He has more than 25 years of IT industry experience and has authored three Apress books: Privileged Attack Vectors, Asset Attack Vectors, and Identity Attack Vectors. In 2018, Bomgar acquired BeyondTrust and retained the BeyondTrust name.
He originally joined BeyondTrust in 2012 as a part of the eEye Digital Security acquisition. Morey currently oversees BeyondTrust strategy for privileged access management and remote access solutions. In 2004, he joined eEye as Director of Security Engineering and was responsible for strategic business discussions and vulnerability management architectures in Fortune 500 clients. Prior to eEye, he was Development Manager for Computer Associates, Inc. (CA), responsible for new product beta cycles and named customer accounts. He began his career as Reliability and Maintainability Engineer for a government contractor building flight and training simulators. He earned a Bachelor of Science degree in Electrical Engineering from the State University of New York at Stony Brook.
Synopsis and overview of the session
In 2020, more than 850 vulnerabilities were found in Microsoft products. The OS is full of vulnerabilities – even the newest and most secure Windows 10 that is used on 70.98% of Windows computers as of March 2020. Every day, the AV-TEST Institute registers over 350,000 new malware and potentially unwanted applications (PUA). There is no way to fight against this with traditional reactive measures. We need to move from reactive to proactive security. But how?
Focus Network, in partnership with BeyondTrust, invites senior IT Security leaders to participate in an interactive discussion with Morey Haber, CTO/CISO at BeyondTrust, about:
Key findings of the latest "Microsoft Vulnerabilities Report" and six-year trend analysis.
Achieving operational excellence by shifting from a "Reactive" to a "Proactive SaaS" Least Privilege security model.
Q&A with Morey Haber: Global Case Studies of Enterprises that managed to improve their security resilience and mitigate 80%-100% of Microsoft Critical Vulnerabilities.
About BeyondTrust
BeyondTrust is the worldwide leader in Privileged Access Management, offering the most seamless approach to preventing data breaches related to stolen credentials, misused privileges, and compromised remote access.
Our extensible platform empowers organizations to easily scale privilege security as threats evolve across endpoint, server, cloud, DevOps, and network device environments. BeyondTrust unifies the industry's broadest set of privileged access capabilities with centralized management, reporting, and analytics, enabling leaders to take decisive and informed actions to defeat attackers. Our holistic platform stands out for its flexible design that simplifies integrations, enhances user productivity, and maximizes IT and security investments.
BeyondTrust gives organizations the visibility and control they need to reduce risk, achieve compliance objectives, and boost operational performance. We are trusted by 20,000 customers, including half of the Fortune 100, and a global partner network. Learn more at www.beyondtrust.com.
Website: www.beyondtrust.com
3:30 pm – 4:00 pm – Registration & networking
4.00 pm – 4.05pm – Welcome address
4.05 pm – 5.15pm – 3 course lunch served4.05 pm – 4.45pm – Embracing disruption in the financial services industry: A Privacy versus Security conundrum – Amanda Chan, BlackBerry
4.45 pm – 5.15pm – Demo
5.15pm – 5.45pm – Discussion
5.45 pm – 6pm – Closing remarks