Synopsis and overview of the session
Today, all enterprises are pivoting, from the initial pandemic response phase to stabilisation and retooling. Organisations are conscious of the trough that can follow crisis and are seeking ways to 'bounce forward' to future that amplifies the best of what has been discovered amidst the upheaval, and avoid reverting to outmoded practices.
COVID-19 has only amplified the need for organisations to reinvent and be future fit, from profit-led to purpose-led, hierarchies to networks, structured to agile and activity-bound to value-creating. Given these imperatives, the impact of leadership on performance and renewal is greater than ever. New ways of leading must fully embrace and enhance the new ways of working and teaming.
Over the last year, and especially in recent months, Bendelta has been partnering with clients who have the foresight, courage and imagination to pioneer these new ways of leading. This means not only changing company norms for leadership but also developing leaders in new ways to build critical mindsets and behaviours. This work has led to:
Bendelta winning the world's highest award for leadership development in February 2020

Bendelta winning Australia's highest award for organisational change in December 2019
Focus Network, in partnership with Bendelta, will showcase these critical shifts in leadership for organisations that seek to be future-fit, and how we have been equipping organisations and leaders to reach this frontier, and discuss with the group emerging ideas, challenges and practical opportunities.
3:30 pm – 4:00 pm – Registration & networking
4.00 pm – 4.05pm – Welcome address
4.05 pm – 5.15pm – 3 course lunch served4.05 pm – 4.45pm – Embracing disruption in the financial services industry: A Privacy versus Security conundrum – Amanda Chan, BlackBerry
4.45 pm – 5.15pm – Demo
5.15pm – 5.45pm – Discussion
5.45 pm – 6pm – Closing remarks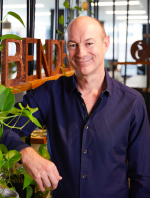 Anthony Mitchell, Chief Potential Officer – Bendelta
Anthony Mitchell is the co-founder and Chief Potential Officer of Bendelta. He is an internationally recognised thought leader in strategic leadership. He has been advising companies internationally for the last 25 years, working across more than 30 countries on five continents. He advises clients ranging from leading multi-nationals and listed companies to major government agencies and not-for-profits.
Anthony has significant experience helping people solve complex problems. He is particularly focused on driving positive change at the sector or industry level, which has led him to contribute substantially to disability, homelessness, justice, child protection, immigration, defence and aging.
The art and science of strategic leadership is what has driven Anthony to where he is today. As Dux of both his Mathematics and Psychology, and with postgraduate business qualifications from Cornell University (New York), Anthony has a unique mix of expertise across typically separate ways of thinking.
About Bendelta
Welcome! We enable individuals, teams, and organisations to reach their full potential. As strategists, psychologists and learning pioneers, we apply scientific principles proven methods to create sustainable transformation.
Our vision is "1 Million 1 Billion"​. We aim to directly help 1 million people unleash more of their potential so they can cascade positive impact to a further 1 billion people. We hire people who are smart, client-centric, results-focused and kind. Our people are driven to make the world a better place.
We have recently won Gold in the highly coveted Brandon Hall Group Excellence Awards for Best Innovative Leadership Development Program and were awarded the APS Workplace Excellence Award for Organisational Change 2019.
In addition we have been named twice as one of Australia's 100 fastest growing companies by Business Review Weekly magazine and listed as an Anthill "Cool Company"​ and Anthill "Smart100" business.
Thanks for following us and don't hesitate to get in touch with any questions.
Website: https://www.bendelta.com/