Synopsis and overview of the session
Focus Network, in partnership with Reward Gateway, will be bringing leading HR executives to discuss:
Innovative benefits – exploring the challenges of a more remote workforce; maintaining workforce motivation and creating a culture of inclusiveness.
Promoting workforce wellness – identifying tactics to redesign work around holistic wellbeing strategies that drive greater worker resilience and higher organisational performance.
Exploring communication strategies for the workforce – maintaining connection, collaboration, agility and enabling a stronger feeling of belonging.
Ensuring engagement is a vital part of the business cycle and embedded into the culture – analysing recognition techniques that have proven to be effective in connecting people to organisational mission and values.
3:30 pm – 4:00 pm – Registration & networking
4.00 pm – 4.05pm – Welcome address
4.05 pm – 5.15pm – 3 course lunch served4.05 pm – 4.45pm – Embracing disruption in the financial services industry: A Privacy versus Security conundrum – Amanda Chan, BlackBerry
4.45 pm – 5.15pm – Demo
5.15pm – 5.45pm – Discussion
5.45 pm – 6pm – Closing remarks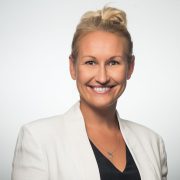 Kylie Terrell, Employee Engagement Consultant, Reward Gateway
Kylie Terrell has partnered with HR leaders across Australia/New Zealand for over 7 years to design and deliver strategic employee engagement programs that have employees at the heart.
Responsible for helping organisations bring their purpose, mission and values to life across numerous best in class engagement programs, Kylie is driven to help businesses use Engagement as a core lever for success.
Having seen the positive effects it can have on culture and engagement first hand, Kylie is passionate about leveraging technology to build better connections and is an advocate for using peer led recognition as an engagement driver. Her area of expertise lies in the delivery and analysis of surveys, facilitating focus groups and strategic program design, supporting leadership education and change and of course thoughtful, engaging marketing/communications strategy.
When she's not at RG flexing her employee engagement muscle she's smashing it out at Boxing training, trying a new recipe in the kitchen and learning recognition really is one of the first things we understand while hanging out with her 1 year old daughter, Thea.
About Reward Gateway
Reward Gateway helps more than 1,800 of the world's leading companies to attract, engage and retain their best people with an employee engagement platform that brings employee benefits, discounts and perks, reward and recognition, employee wellbeing, employee communications and employee feedback into one unified hub. Clients include American Express, Unilever, Samsung, IBM and McDonald's. For further information, please visit: www.rewardgateway.com
Website: www.rewardgateway.com