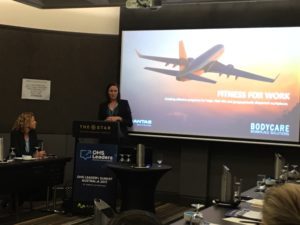 Rene van der Merwe, Head of Workplace Health and Safety at Qantas and Samantha Hall, Head of Health Assessment Services at Bodycare collaborated to host a roundtable discussion at the OHS Leaders Summit Australia on 'The Right Fit Project'. The Right Fit Project is a collaboration between Qantas and Bodycare Workplace Solutions in order to provide key stakeholders in the business with a best practice framework for assessing and managing health and fitness for work requirements for employees at Qantas.
The aims of the project were to:
Transform existing Group processes for assessing and managing initial and ongoing fitness for duty (FFD) against the inherent job requirements, with the aim of reducing initial and recurrent employee injuries.
Define the role requirements, revise and validate the processes for assessing against them and develop a robust management framework for when those requirements are not able to be met.
Address management of long term sickness due to personal illness or injury, and fitness record storage options for a more coordinated framework.
In this roundtable discussion, Rene and Samantha shared learnings relevant to the development and implementation of an effective and comprehensive fitness for work systems as they apply to high risk geographically spread and high risk workplaces.
Rene is currently the Head of Workplace Health and Safety for Qantas Group. Most recently René worked for Woolworths Supermarkets as the NSW Risk & Safety Manager, and was responsible for the project management and national roll out of the Physio Recovery program. Previously, René worked as the Global Program Manager Sustainability Advocacy for Goodyear Tire & Rubber Corporation, responsible for developing a corporate platform for Environmental, Health & Safety sustainability across four operating regions. She was also instrumental in the implementation and operationalising of the REACH (Registration, Evaluation, Authorisation of Chemicals) legislation across affected operational regions. Prior to her global role, René led targeted injury prevention programs in the South African manufacturing plant, focusing on employee engagement and empowerment, measuring success through lead indicators. Prior to Goodyear, she worked for Eveready Diversified Products as Integrated Systems Manager, responsible for implementing the first accredited, fully integrated ISO14001, ISO9001 and OHSAS18001 system in South Africa, back in 2005. René commenced her career as a Validation chemist at Aspen Pharmacare, where she had the privilege to form part of the research team for the first generic, anti-retroviral drug that was released within South Africa.
Samantha is the Head of Health Assessment Services at Bodycare Workplace Solutions. She oversees all pre-placement and periodic health assessments for the company and has more than 10 years occupational health experience, and holds tertiary qualifications in Physiotherapy, Ergonomics and OHS. Sam is passionate about workforce health risk management, and has worked with organisations across a wide range of industries including aviation, mining, manufacturing, construction, healthcare, and oil and gas.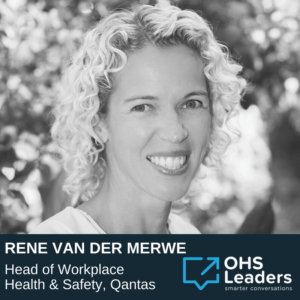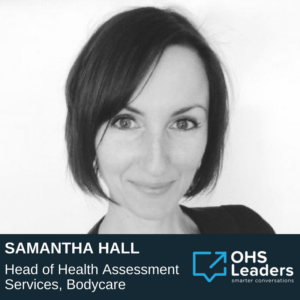 #OHSLeadersSummit #MediaCorpInternational