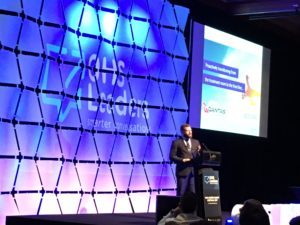 Rene van der Merwe, Head of Workplace Health and Safety at Qantas and Rod Hampel, National Business Development Manager at Bodycare talk to delegates at the OHS Leaders Summit Australia on 'Giving safety back to the people!' Shifting the approach of Safety from control through procedures and policies to developing an adaptive and resilient workforce that are truly engaged and are personally invested in improving productivity, efficiencies and safety. In this presentation Rene and Rod touched on their integrated approach to building sustainable WHS improvements in the aviation industry.
Rene is currently the Head of Workplace Health and Safety for Qantas Group. Most recently René worked for Woolworths Supermarkets as the NSW Risk & Safety Manager, and was responsible for the project management and national roll out of the Physio Recovery program. Previously, René worked as the Global Program Manager Sustainability Advocacy for Goodyear Tire & Rubber Corporation, responsible for developing a corporate platform for Environmental, Health & Safety sustainability across four operating regions. She was also instrumental in the implementation and operationalising of the REACH (Registration, Evaluation, Authorisation of Chemicals) legislation across affected operational regions. Prior to her global role, René led targeted injury prevention programs in the South African manufacturing plant, focusing on employee engagement and empowerment, measuring success through lead indicators. Prior to Goodyear, she worked for Eveready Diversified Products as Integrated Systems Manager, responsible for implementing the first accredited, fully integrated ISO14001, ISO9001 and OHSAS18001 system in South Africa, back in 2005. René commenced her career as a Validation chemist at Aspen Pharmacare, where she had the privilege to form part of the research team for the first generic, anti-retroviral drug that was released within South Africa.
Rod currently is National Business Development Manager at Bodycare and takes a strategic and commercial approach to networking, building strong client relationships and growing Bodycare's footprint in the occupational injury prevention and early intervention space . Rod has over 10 years' experience working in occupational health and has worked closely with some of Australia's largest corporate organisations to reduce their risks across the employment continuum.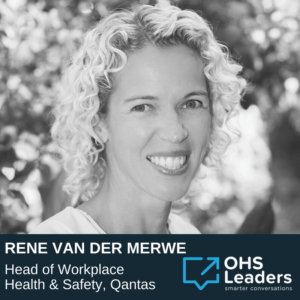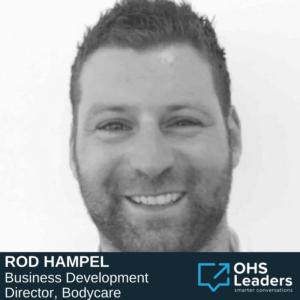 #OHSLeadersSummit #MediaCorpInternational