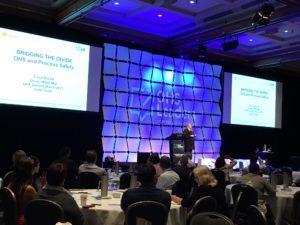 Group HSSE Manager at Viva Energy Australia, Fiona Murfitt, delivered a keynote presentation to delegates at the OHS Leaders Summit Australia on 'Bridging the divide – OHS and process safety'. The occupational health and safety field is well established, with a number of professional bodies, undergraduate programs and a comprehensive body of knowledge. Conversely, the process safety field has evolved largely over the past 40 years as an engineering discipline, with a focus on engineering solutions.
Both fields utilise a risk management basis for decisions and actions. But both fields still largely operate independently of each other. There is much to be learned from sharing knowledge and responsible collaboration to deliver safer plants and operations from an OHS and a process safety perspective. This keynote presenation explored how we can bridge the divide between OHS and process safety to achieve better safety outcomes. This includes better education and information flow between both professions as well as leveraging off existing systems to advance process safety. 
Fiona is the Group Manager for Health (incl Industrial Hygiene), Security, Safety and Environment (HSSE) for Viva Energy Australia. Managing and leading a team of professionals, she reports directly to the CEO and has accountabilities that includes the delivery of the strategic direction of HSSE across the business for continual improvement, the management of the behavioural and cognitive safety leadership approach, the provision of robust Assurance programmes and return to work, and the provision of HSSE subject matter expertise to support the ongoing management of HSSE across the business. Fiona's career has predominantly focused on working within high-risk operations, with more than fifteen years working within the oil and gas industry. She has held positions in Safety (HSSE), Contractor Management and Risk Management and also spent time as Director for Australia, NZ & Pacific Islands for Dupont's consulting arm helping companies build safer more efficient and reliable operations. Her passion around safety, performance and culture change came after a family member – Kevin was killed at work. Kevin was a contractor working on a shutdown at a refinery and the impacts to the family and friends have left a deep impression. As such, being able to influence the improvement of an organisation's performance in a safe and sustainable way holds a deeply personal connection for her.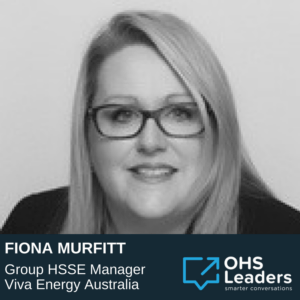 #OHSLeadersSummit #MediaCorpInternational