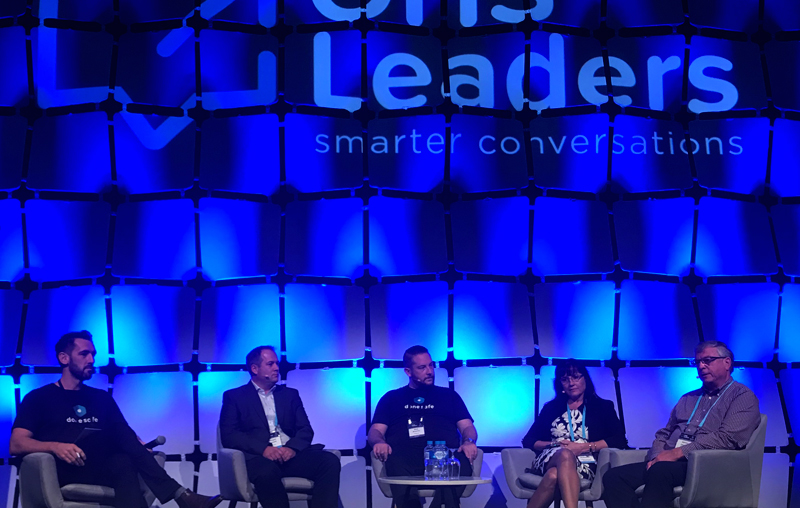 Matt Knee, Co-Founder of Donesafe, moderates and runs a keynote panel discussion focusing on "how technology and artificial intelligence is changing the role of the OHS leader".
Matt Knee from Donesafe heads up an all-star panel at this year's OHS Leaders Summit on the Gold Coast. Other panelists that took part in this session included:
Adrian Ditcher, National Workplace Safety Manager, McDonald's Australia
Matt Browne, CEO, Donesafe
Lynda McMeekan, Director, Environment Health and Safety, United Technologies – Chubb / Carrier
Donesafe Co-Founders and Safety Tech Thought Leaders ran an insightful panel discussion on the modern era of technology, its impacts on safety in the workforce and the profession, as well as taking a look at future trends, including artificial intelligence.
The panel highlighted what everyone needs to be thinking about as the role of the modern safety leader evolves. We heard success stories, battle scars and practical advice from those who have already evolved their approach to their work and role.
ABOUT MATT KNEE
Matthew is an experienced entrepreneur establishing a number of successful high growth businesses in technology, hospitality and staffing. Matthew is the Co-Founder of Donesafe, 'The People's Safety Software' trusted by over half a million workers including customers such as McDonalds, Audi and Suncorp Group. Prior to Donesafe Matt co-founded several businesses including Work Ninja, an on-demand SaaS staffing platform and specialist staffing business Silk (grew revenues from $0-$20m in 4 years) and hospitality venture Laneway Enterprises, the group behind some of Sydney most popular bars and restaurants. Prior to being in business Matthew spent most of his career as a management consultant for Deloitte, the world's largest professional services firm. Matthew holds a Bachelor of Commerce from Curtin University and an MBA from AGSM, University of Western Australia.