Synopsis and overview of the session
HR executives to discuss:
The world of work, while navigating the most unprecedented business continuity crisis in modern history, is now operating under newer paradigms. The evolution of the workplace got rapidly accelerated and a new work culture is here to stay. Organizations across the globe are working towards adapting to this #newnormal and HR is at the driver's seat of this transformation.
In a recent AI@Work global study, 78% of respondents say that 2020 is the most stressful year ever. From managing the highest ever workplace stress to safeguarding the mental well-being of the employees, from managing a distributed workforce to unleashing the power of AI, HR leaders are managing multiple transformation priorities at an overwhelming speed – and all of this when the role of HR itself is changing and evolving the most.
Focus Network, in partnership with Oracle, will be bringing leading HR thought leaders and fellow CHROs will discuss the contemporary HR challenges in Asia Pacific and what they are doing to stay ahead in the game. We value your exclusive insights and invite you to share your perspectives.
3:30 pm – 4:00 pm – Registration & networking
4.00 pm – 4.05pm – Welcome address
4.05 pm – 5.15pm – 3 course lunch served4.05 pm – 4.45pm – Embracing disruption in the financial services industry: A Privacy versus Security conundrum – Amanda Chan, BlackBerry
4.45 pm – 5.15pm – Demo
5.15pm – 5.45pm – Discussion
5.45 pm – 6pm – Closing remarks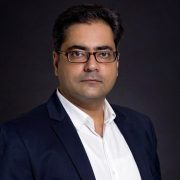 Shaakun Khanna, Head of HCM Applications Strategy, Asia Pacific at Oracle
Shaakun Khanna is a highly sought-after HR Transformation expert in Asia and serves as the Head of HCM Applications Strategy, Asia Pacific, at Oracle Corporation. Prior to joining Oracle Shaakun was the Managing Director of Right Management, India. He is also the Co-founder of Consentus Advisory, a specialty Transformation consulting firm. In his earlier roles Shaakun has been the Head of IBM Smarter Workforce and also Head of Employee Engagement & Leadership Development Practice for Gallup Consulting and worked across Asia & Middle East with clients from diverse industries. Over the last two decades he has been a consultant to many Fortune 500 Organizations on areas of Digital HR Transformation, Talent Management, Organization Design & Development, Employee Experience, Leadership Development and Succession Planning.
Shaakun carries rich experience of managing businesses for global organizations like Gallup Inc., IBM Smarter Workforce, The Tata Group, Manpower etc. in various leadership roles. He graduated from Delhi University and further studied HR Consulting at the Gallup University, USA. Additionally he is an Accredited Executive Coach and coaches business leaders across the region. Additionally, Shaakun is a Master Facilitator of the 'Consciousness Based Leadership' with the International Centre for Contemporary Consciousness, USA.
An inquisitive traveler and an avid reader, Shaakun is greatly inspired by Dr. Stephen Covey and Donald O Clifton, which instills in him a great passion to transform organizations for betterment of their Human Capital.
About Oracle
We're a cloud technology company that provides organizations around the world with computing infrastructure and software to help them innovate, unlock efficiencies and become more effective. We also created the world's first – and only – autonomous database to help organize and secure our customers' data.
Oracle Cloud Infrastructure offers higher performance, security, and cost savings. It is designed so businesses can move workloads easily from on-premises systems to the cloud, and between cloud and on-premises and other clouds. Oracle Cloud applications provide business leaders with modern applications that help them innovate, attain sustainable growth, and become more resilient.
The work we do is not only transforming the world of business–it's helping defend governments, and advance scientific and medical research. From nonprofits to companies of all sizes, millions of people use our tools to streamline supply chains, make HR more human, quickly pivot to a new financial plan, and connect data and people around the world.
At work, we embrace diversity, encourage personal and professional growth, and celebrate a global team of passionate people developing innovative technologies that help people and companies tackle real-world problems head-on.
Website: www.oracle.com