Synopsis and overview of the session
Security teams are working hard on the front lines identifying, analyzing and mitigating threats. Yet despite all their efforts, visibility into malicious activity remains challenging as the mean time to identify a security breach is still 197 days, with the mean time to containment being another 69 days after initial detection (source: Ponemon Institute).
The reality is that with the current reactive approaches to cyber defense, there simply aren't enough skilled professionals to analyze the volume of incidents that most organizations face. With limited resources, an ever-growing skills gap and an escalating volume of security alerts, organisations are left vulnerable to what is perceived to be unavoidable risk.
This environment is demanding more of already resource-constrained CISOs. So how can they further minimise risk from cyber threats without further increasing the workload?
To help answer this question, we  put together an invite-only, private digital Round-table at which we will be discussing how automation can help:
Drastically reduce the amount of uninvestigated and unresolved alerts
Automate time-consuming investigations and remediate well-known threats
Act as a force multiplier for resource-constrained security teams
Reduce your organization's security risk exposure, including the time to containment and remediation
Focus Network, in partnership with SentinelOne, will be bringing leading IT Security executives to discover how they are dealing with the challenges of digital transformation and technology sprawl and how they view the opportunities around security automation.
3:30 pm – 4:00 pm – Registration & networking
4.00 pm – 4.05pm – Welcome address
4.05 pm – 5.15pm – 3 course lunch served4.05 pm – 4.45pm – Embracing disruption in the financial services industry: A Privacy versus Security conundrum – Amanda Chan, BlackBerry
4.45 pm – 5.15pm – Demo
5.15pm – 5.45pm – Discussion
5.45 pm – 6pm – Closing remarks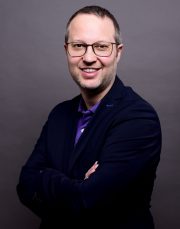 Jan Tietze, Director Security Strategy EMEA, SentinelOne
Before joining SentinelOne in 2020, Jan Tietze served in senior technical and management roles ranging from engineering to CIO and CTO roles for global IT and consultancy organizations. With a strong background in enterprise IT and an early career in senior field engineering roles in Microsoft and other security and consulting organizations, Jan understands real world risk, challenges and solutions and has been a trusted advisor to his clients for many years.
About SentinelOne
SentinelOne was founded in 2013 by an elite team of cyber security and defense experts who developed a fundamentally new, groundbreaking approach to endpoint protection.
SentinelOne is a pioneer in delivering autonomous security for the endpoint, datacenter and cloud environments to help organizations secure their assets with speed and simplicity. SentinelOne unifies prevention, detection, response, remediation and forensics in a single platform powered by artificial intelligence. With SentinelOne, organizations can detect malicious behavior across multiple vectors, rapidly eliminate threats with fully-automated integrated response and to adapt their defenses against the most advanced cyberattacks. SentinelOne has offices in Mountain View, Tel Aviv, and Tokyo. The company is recognized by Gartner as a Visionary for Endpoint Protection and has enterprise customers in North America, Europe, and Japan.
Website: www.sentinelone.com