Transforming Business with Digital Platform and AI Technology
Daniel Lui, Chief Information Officer & Vice President of Operations, Pacific Healthcare Group,
Patrik Bruhlmann, Group CEO, Pacific Healthcare Group
Daniel Lui, CIO & VP of Operations and Patrik Bruhlmann, Group CEO from Pacific Healthcare kicked off the CIO Leaders Summit Thailand with the opening keynote presentation.
This session explored how a successful medium-sized healthcare company is taking advantage of AI technology to accelerate its business marketing plan.
The presentation covered the CEO's view of digital interruption on the business strategy and how the CIO aligns the business goals with digital transformation, starting with the "Million Dollar" questions.
On the journey to AI, they discuss the strategic options and major considerations including Data Platform, Partner selection, AI Risks and Value Realization. The presentation was concluded with some key learnings including:
Understand Data Literacy level – process generates data, and the accuracy of data relies on the right process!
You can outsource technology, but you cannot outsource the digital transformation – own the role of Business Process Analyst (vs Data Analyst)
This is a learning journey – the journey is matter more than the project goal
It is essential to have strong sponsorship from the top. You have to be very clear what you want to achieve.
About Pacific Healthcare
Pacific Healthcare Group was founded in 1961 by the late Frits Buhrman. Starting in Thailand, Pacific Healthcare has and is constantly growing to help more people over the Southeast Asia region. Connecting with more than 600 million consumers, Pacific Healthcare is expanding further to the Philippines, Vietnam, Myanmar as well as Cambodia. Pacific Healthcare has a consistent vision to care for and distribute medical and pharmaceutical needs and services further into the region.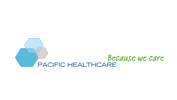 For more information about the CIO Leaders Summit Thailand please register your interest at http://cioleadersthailand.com/registration/
For all media enquiries please contact:
Stacey Alker – Marketing Director, Focus Network
E: stacey@focusnetwork.co
P: +61 (0) 484 963 072