Ed Alexander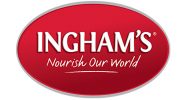 Ed is motivated by the idea that he can make an organisation better tomorrow than it is today.
Taking on the principled approach to leadership that everyone brings something to the table, every voice deserves to be heard, influence is leadership and you influence others by being someone they want to follow.
He has worked in public, private and PE backed environments to improve performance and unlock value and at Ingham's, leads the Corporate Strategy, M&A and Integrated Business Planning (S&OP).