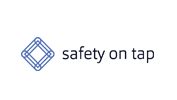 I like it outside the box. It's not as comfortable as inside the box, but way more fun, I learn heaps, and make a bigger difference in the world. Sometimes it's just outside the box, and I beckon others to join me. Other times I run towards the edges, seeing how far I can go.
So, how can I help you?
– I created a podcast for you at safetyontap.com, to support as many professionals as possible improve your capability, to become more effective, and in turn have greater impact. Have a listen, it's free (and there's plenty more good stuff on the website you should check out, including events)
– I curate a community of people in the growth accelerator Safety on Tap Connected. Members learn socially, and develop through coaching from me (with some very intentional educational content there too). A better investment than a point-in-time conference.
– I work with safety leaders and companies who want to go beyond the status quo, whether that's improving on what you've already got or drastic changes more akin to Safety II/safety differently. It often ends up looking like workshops, facilitation, comms, strategy, OD and systems work. Should you and I co-design something and take action like that?
– I love getting together with groups of people. I do this often at conferences, breakfasts, and random social gatherings. I am a connector of people with each other, and with new ideas. Should we meet sometime?