Solomon Tay, Head of IT Controls and Information Security at Singapore Exchange, delivered a workshop around "Security Considerations for Cloud Outsourcing"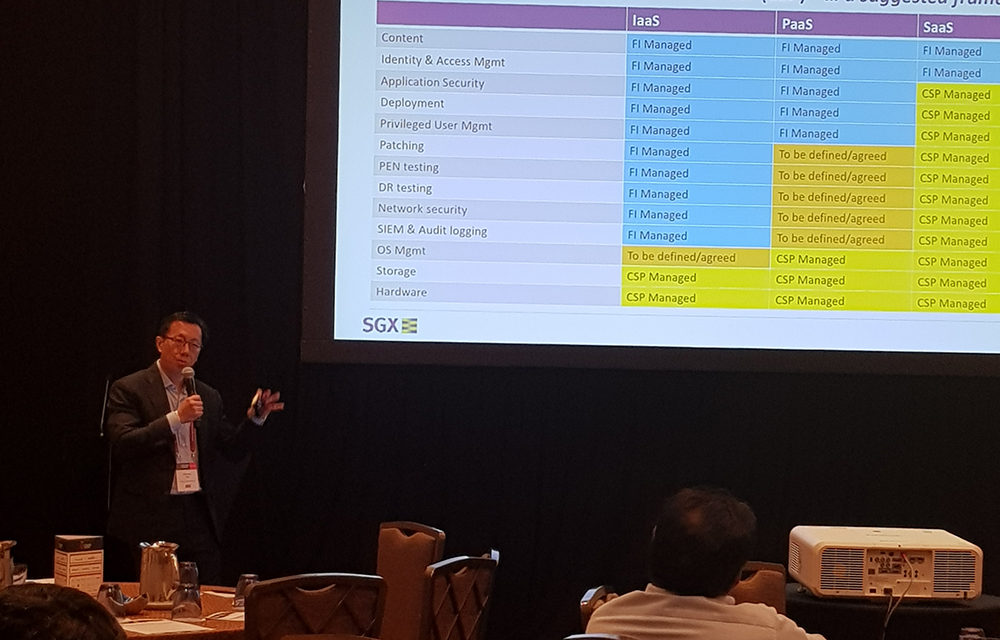 During this session, the speaker discussed around the areas of consideration as part of the Singapore Financial Industry players' journey into cloud outsourcing.
The adoption of Cloud can offer a number of advantages, including faster time to market, scalability, cost savings, enhanced security and access controls. The speaker shared on the areas of consideration when performing due diligence and implementing controls to address the typical characteristics of cloud services, such as multi-tenancy, data commingling and higher propensity for processing to be carried out in multiple locations.
ABOUT SOLOMON TAY
27+ years of IT experience in delivering large-scale systems, re-engineering IT and Operational processes. Domain expertise in Government, Banking and Insurance sectors. I joined SGX in 2018 as Head of IT Controls and Information Security. Prior to SGX, I held senior IT positions in the financial sector including ANZ, CIMB Bank Berhad, Barclays PLC, Standard Chartered Bank, OCBC Bank and UOB Bank. I started my career in the government sector with the National Computer Board (Singapore) in 1990 as part of the Singapore Government's Civil Service Computerization Programme (CSCP). I am passionate about simplifying processes, improving productivity, driving innovation and delivering robust and secure services for the business units. I am an active member of Standing Committee for CyberSecurity (SCCS) formed by the Association of Banks in Singapore. More recently, I I lead the subgroup for External and Partnership Services in the Industry Core Working Group for the new revision of MAS TRM in 2018. I am also an active member in ABS Cloud Computing Guidelines workgroup in crafting the new version 2.0. Participated in the ABS SCCS Study trip to UK in 2018.