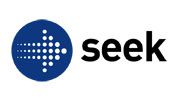 Tracey is a passionate technologist with extensive experience leading change and enterprise transformation across the Asia Pacific region. She is currently the Chief Information Officer of SEEK.
Tracey joined SEEK after 16 years with KPMG, where she led technology enabled business transformation projects, guided ERP Implementations, led business process redesigns and drove Programme Governance.
With an MBA in Economics and Strategy, Tracey is a pragmatic leader, enthusiastic about leading high performing teams. Her expertise working with virtual teams has influenced her leadership style, and she is known for her collaborative approach. As a senior woman in technology, Tracey is excited to support and mentor the next generation of women technologists, helping them navigate and succeed in the transformational realm of technology.
Talks